Watch-Again vs. One-And-Done
As I try to watch everything I can that are Classic Films, or "oldies," I continue to find films that are new to me. Some of them are worth watching again, while others are "one and done." In the first part of 2020, I ended up with 17 first-timers. Here is my guidance for you on these discoveries. My daughter read the list and said, "Dad, you watch a lot of weird movies." Let me know what you think.
Would Watch Again:
The Big Night (1951) - This was a big surprise for me! John Drew Barrymore shines in this film noir. A young man sees his father beaten and humiliated, and steps out of his shell and into a tough world he knows little about in order to avenge his father.
Night And The City (1950) - Great film noir! Richard Widmark plays a small-time guy who cuts corners to become a big-time wrestling promoter in London. And the big boys don't like it. Excellent direction and acting to develop Widmark's character from a sleaze into someone you're pulling for. A little.
I Wake Up Screaming (1941) - Very glad to find this film noir. A woman is found murdered, and her sister and publicist team up to find the murderer. Meanwhile, the chief detective is stalking them in order to get them to confess. Betty Grable and Victor Mature play off each other well. Surprising twists.
The 49th Parallel (1941) - Nazi soldiers try to infiltrate USA through Canada after their U-Boat is sunk in Hudson Bay. Clearly anti-Nazi propaganda film, but surprisingly well done. Strong cast. This was a pleasant surprise.
Background to Danger (1943) - A businessman is pulled into the world of WWII espionage, as Nazi forces plot to create havoc in Turkey. Not-so-bad performance for George Raft, also with Peter Lorre and Sydney Greenstreet.
The Lost Squadron (1932) - Richard Dix, Mary Astor. WWI flying aces are reunited to perform stunt flying for the movies, when they find the maniacal director pushing things a bit too far. After a slow start it turns into a pretty good movie, not as predictable as I had anticipated. Attractive aerial footage of soaring airplanes during dogfights.
So Long At The Fair (1950) - Set at the 1889 Paris World's Fair, a pretty good mystery about a woman trying to find her brother who goes missing, and the hotel staff claim he was never there. Even his hotel room disappears. Good suspense as she tries to prove she is not crazy, and locate her missing brother. The ending is unexpected.
Night Must Fall (1937) - An intriguing mystery that sneaks up on you a bit, adapted from a play. A wheel chair bound woman hires a handyman and becomes very attached to him, and her long-suffering niece takes notice of his preferential treatment. Meanwhile, the police are looking for the murderer of a local young woman. Oscar nomination for Robert Montgomery, who develops a complicated personality for the handyman character. Dame May Whitty also nominated for Best Supporting Actress.
A Woman's Secret (1949) - Interesting drama about a singer, played by Maureen O'Hara, who confesses to the attempted murder of her protege, well-played by Gloria Grahame. Her manager doubts her story and develops his own investigation. Effective use of flashbacks to tell the story.
Tokyo Joe (1949) - Pretty good Humphrey Bogart film. A former soldier returns to Japan to re-start his life there, but finds that his wife has divorced him and remarried. He fights the post-war Japanese underworld to protect her from treason charges.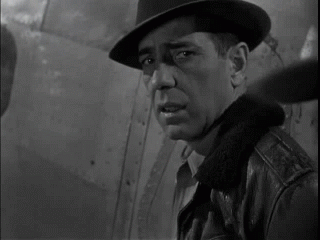 One and Done:
Mystery Street (1950) - A woman is found murdered and an innocent man is accused. A good display of scientific crime solving techniques of the day, and a well-written plot. An Oscar nomination for Best Screen Story. Interesting one-and-done. Elsa Lanchester stands out (as usual).
The Phantom Of Crestwood (1932) - Good mystery with some well-planned twists. A woman plans to extort money from all the businessmen she has been involved with, but she is murdered at a dinner party. A gang of crooks arrives to rob the place, and end up being the detectives solving the crime. Worth watching. Once.
B.F.'s Daughter (1948) - A rich banker's daughter falls for an economics professor, then tries to change him into a more successful man. A romance, sorta works on the strength of Barbara Stanwyck's performance. Flat ending.
Rio Grande (1950) - I don't watch a lot of Westerns, so that is likely why I wouldn't revisit this one, even though it's a decent movie. Soldier John Wayne and Easterner wife Maureen O'Hara in conflict over their son's enlistment in the midst of war with Chief Geronimo.
Beyond the Time Barrier (1960) - Low-budget attempt on a trite plot. A test pilot crashes through the time barrier and lands in a future time, when all the men are impotent and he is targeted to help repopulate the planet. Other than the footage of an old airfield, this one is not worth your time.
Tormented (1960) - Pretty good film for fans of cheesy horror. A man lets a former girlfriend fall to her death when she threatens to destroy his new relationship. Then her ghost appears to haunt him. Decent cinematography of a coastline, but special effects are lacking. I won't look for it again.
The Night Digger (1971) - A blind woman hires a gardener/handyman, and her middle-aged daughter finds herself attracted to him in spite a their age differences. Then we find that there are dark mysteries in his past. I wouldn't recommend, in spite of Patricia Neal's good performance. The ending was apparently cut short because of budget limits.